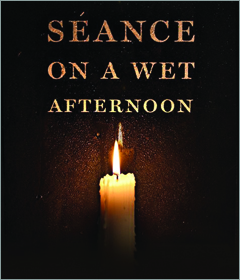 Séance on a Wet Afternoon
SÉANCE ON A WET AFTERNOON is a psychological thriller about a medium, Myra Foster, her doting husband Bill, and the spirit of their deceased eleven-year-old son, Arthur, who speaks to Myra and is her contact for her séances.
Because Myra has never received the recognition she feels her gifts merit, they hatch a Plan: They will kidnap the daughter of a local wealthy industrialist, and keep her safe while the media frenzy over her abduction builds. When Myra has a "vision" that leads to the successful recovery of the girl and the ransom, her fame will be assured. As The Plan is put into action, the girl's presence in the house leads to complex psychological responses from Myra, Bill, and Arthur. The delicate balance of Myra and Bill's relationship and Myra's sanity itself begins to fray, as long-buried secrets are revealed.